sacred places India YOGA RETREAT TOUR 2020
Absorb the energy of sacred places, receive teachings to awaken your mind and be touched by beauty that opens your heart to a positive way of being.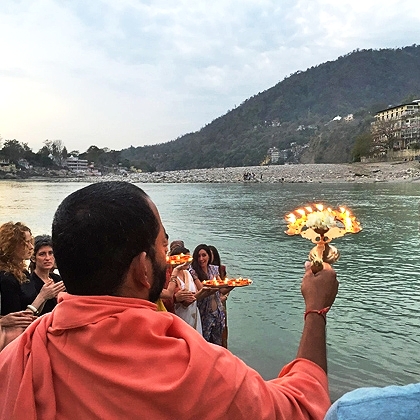 Visit four of the most significant places in India:
Rishikesh the holy place of worship at the mouth of the Ganges
Varanasi the sacred city of liberation where the ganges flows upstream
Taj Mahal the temple dedicatED to love
Delhi the ancient MuGhAL city of POWER
As a transformational process therapist and social worker, Marissa creates once-in-a-lifetime therapeutic retreats that also change the lives of local people in need.
Marissa at Gone Far Beyond will also donate AUD$100 for every member to the Children of the Ganga' charity who provide free education to street children. This money will be use for essential books and resources to improve their education. Extra contributions with friends and family are welcome but there is no obligation.
18th to 29th November 2020 - 11 nights/12 days
AUD$3,290 (approx. USD$2,309) per person + $200 EARLY BIRD DISCOUNT AVAILABLE
Bring a friend or partner and save $800AUD
See below for details or email to receive a full itinerary
THIS RETREAT BOOKS OUT VERY QUICKLY. PLEASE BOOK AT LEAST 4 MONTHS EARLY TO BE GUARANTEED A FIRST CLASS SEAT ON THE INDIAN RAIL TRAIN, OTHERWISE ADDITIONAL FEES MAY BE REQUIRED FOR INTERNAL INDIAN FLIGHTS, OR YOU MIGHT MISS OUT COMPLETELY.
Cleansing Waters & Sacred Places Retreat
'Mother Ganga' - The Ganges, begins at the foot of the Himalayan mountains at Rishikesh and gives life to India. A place of being born. She then flows down to Varanasi, the spiritual capital of India. A place of life, death and 'moksha' transcendence.
Teacher, Social Worker and Therapist
As a transformational process therapist, therapeutic yoga and meditation teacher, mindfulness and compassion teacher and social worker, Marissa creates once-in-a-lifetime therapeutic retreats that also change the lives of local people in crisis.
You will also experience transformational and insightful therapeutic yoga practices and therapeutic processes, designed to help you release, relax and regain a sense of wholeness, purpose and personal meaning.
Being a process specialist means Marissa helps people heal, recover and most importantly find the beauty and appreciation for life. She has been facilitating international events for 15 years.
Monument to Love
The Taj Mahal was build as a mausoleum by Emperor Shah Jahan for his beloved wife who died in childbirth in 1631. It was said that his grief was so great that his hair turned white.
Located in Agra which was the capital of the Mughal empire from the 16-17th century, The Taj Mahal has been considered the greatest monument to love. For many it is the crowning reason for the visit to India.
Upon first seeing the completed building Emperor Shah said: "the sight of this mansion creates sorrowing sighs and makes sun and moon shed tears from their eyes. In this world this edifice has been made to display, thereby, the Creator's glory".
It took 22 years to construct the building by 20,000 craftsmen and is adorned with quotations from the Quran and semi-precious crystals such as: agate, turquoise, onyx, coral, cats eye, bloodstone and jade.
Stay in Old Delhi Luxury
One of the truly special pleasures of this retreat is staying in a perfectly restored five star haveli hotel in the old City of Delhi.
The 5 story boutique hotel has been painstakingly renovated to the highest quality to showcase the craftsmanship, indulgence and elegance of a time gone by.
The hotel is within walking of markets, bazaars, temples and ancient sites - and has one of the finest restaurants in Delhi.
After the simplicity of ashram life, it will be pure luxury!
5 days of ashram life
Swami-ji has been teaching yoga since leaving home to be a holy man at the age of 17. He as worked with many masters, achieved higher levels of practice, has a degree in sanskrit and yoga from Banaris University and is familiar with all styles of yoga. From his gorgeous ashram overlooking the Ganges in the last 25 years he has trained over 5000 yoga teachers from around the world.
Many years ago Marissa trained with Swami who has since been a continual inspiration to her throughout her professional life as a therapist and also as a yoga teacher.
Swami-ji is a very humble, kind, humorous and clear teacher. You will have the opportunity to receive instruction from him and other prominent teachers in the ashram.
In addition to this, you will also in-depth classes from Marissa detailing practices that have become lost in western styles of yoga, and also the fundamental healing principles that makes yoga work therapeutically.
You will also receive a complimentary massage or healing session of your choice to be used while in Rishikesh, so you can sample some of the local practitioners. You can choose from:
Reiki and spiritual healing session

Crystal healing session

Chakra healing session

India ayurveda massage

Cranial sacral treatment

Private or meditation yoga session
Marissa will also be offer all retreat member 50% her treatments for clients who want to work on any personal or life issues.
What You Can Anticipate
Traditional Indian welcoming ceremony

Deluxe luxury suite with full amenities in Delhi

Your own private room in Varanasi, Rishikesh and Agra

AUD$600 discount for twin or double share

Hotel transfers to/from Delhi airport

Retreat fee includes all meals and internal transport

Enjoy a full spectrum of traditional Indian food and fine cuisine

All meals are vegetarian, although meat is available in hotels

All dietary requirements are available upon request

Stay in a traditional ashram on the Ganges river

One complimentary massage or healing session in Rishkesh

Five day yoga and meditation retreat in an ashram on the Ganges

Three days yoga and meditation retreat in Varanasi the holy city

Two days in Agra to see the Taj Mahal

Stay in a traditional Haveli in Old Delhi city

No meditation or yoga experience is required

Entry fee and tour of the Taj Mahal included in retreat price

AUD$100 donation to Children of the Ganga on your behalf

Professional meditation and yoga teaching by Marissa Nolan

Therapeutic processes for greater self understanding and resolve

Meet guest traditional India yoga and meditation teachers

Experience authentic original yoga and meditation styles

Visit the famous burning ghats in Varanasi

Visit the old markets in Delhi old city

Orientation is at 4pm on 18 November 2020

You are welcome to arrive earlier or stay after the retreat

You will have free time to explore Rishikesh, Varanasi, Agra & Delhi

Return flights to and from Delhi are an additional costs

Email Marissa for a full itinerary: marissa@marissanolan.com.
No Experience is Necessary
This will be a very special journey through India! You will have the opportunity to follow the life giving river 'The Ganges' in Rishikesh where life is celebrated to Varanasi where liberation is sort.
You will have five rejuvenating days of yoga and meditation at an ashram overlooking the Ganges. You will receive instruction and classes from Swami, who is a devoted practitioner and respected teachers, and who has trained over 5000 yoga teachers over the last 25 years.
Throughout the retreat you will enjoy beautiful, transformational and insightful therapeutic yoga practices designed by Marissa to help you release, relax and regain a sense of wholeness and personal meaning.
In Delhi there will be time for shopping and the final indulgence of the luxury of small palatial boutique hotel in the centre of the old city. Staying there you will experience the romance and opulence of ancient Mughal life.
The retreat includes: all food, professional yoga and meditation teacher, trains and buses. As well as accommodation at the ashram, guesthouses and luxury haveli hotel in Delhi.
During the retreat: In India food is so much part of life. You will be treated to traditional Indian home cooked food, simple sattvic food in the ashram as well as a few fine dining experiences carefully hand picked by Marissa. In your free time, you will have the opportunity to explore and you can also take advantage of the complimentary massage or healing session that is included in the retreat fee.
Varanasi the city of Moksha
During your three days in Varanasi you will be taken on a tour of the ghats and boat ride, along with morning and evening meditation and yoga practice . There will also be plenty of free time for you to stroll the streets and discover Varanasi for yourself.
GFB Testimonial
"I had no expectations when I booked, it was simply a country I had always wanted to explore. I have to be honest and say the time I spent on Marissa's yoga retreat changed my life. It not only gave me great insight into people, culture and philosophy but also to myself.
Marissa, thank you for being so generous with your local knowledge and for the kind and nurturing person that you are".
Megan Evert, QLD Australia, March 2019
Yoga and Meditation Styles
· Mindfulness and compassion meditation
· Traditional Indian yoga and meditation
· Present and heart-centred yoga
· Viniyoga and Hatha yoga
· Yoga Therapy
· Yoga and spiritual psychology
· Transformational meditation therapy processes
Yoga and Social Work
Yoga and social work are united by the principles of service, humanity, equality, compassion, liberation, openness, understanding and transcending boundaries.
Marissa is a yoga teacher who has lived in the Himalayas for 7 years. She will introduce you to Indian yoga and meditation teachers and healing practitioners she has come to know who will share their unique practices and beautiful way of life.
As a therapist and social worker, every retreat and experience Marissa creates is motivated to help others. For this trip, AUD$100 per person will be donated to providing resources to street children living in and around the Ganges. Extra contributions are welcome and members are free to raise additional funds themselves. Every dollar helps enormously, but there is no obligation.
How We Help
The Children of the Ganges charity is a small group of workers and teachers dedicated to providing free education for children regardless of religion, caste, gender or social status and promote the qualities of kindness and compassion, ethical behaviour and a sense of universal responsibility.
They teach reading and writing in Hindi and English, social skills, art, music, meditation and traditional Indian dance.
With the funds we raise we will provide needed books and resources to improve the standard of education.
As a local social worker in Asia, Marissa works closely with grassroots organisations, community leaders and local people to identify where our help can be of the greatest benefit, with the most positive and long-term social change, and without any negative social effects.
You will have the opportunity to learn about the complex social issues of India, its history, its crises and understand the intricacies of social development and knowing how to contribute effectively. You will also meet the grassroots team that work toward greater education and opportunity for the children that live in poverty on the Ganges.
FEES AND PAYMENT OPTIONs
Single full rate: $3,290 per person. 18th to 29th November 2020.
A non-refundable deposit of AUD$500pp is required to reserve your place.
If you book and pay your deposit before 1st August 2020 save $200 off a private room with ensuite and also save and extra $600 off a twin or double share room with ensuite.
Fees include all taxes. Booking system has a currency converter for your country.
Full payment is required before 1st October 2020 to confirm your hotel suites and overland transport. Cancellation fee is 100%. Group numbers are limited to 10.
If you need alternative payment methods or for the full itinerary please contact Marissa at marissa@marissanolan.com.
To see reviews or our last trip go to: www.facebook.com/gonefarbeyond.
Marissa has been organising international events for over 15 years. Working together with her team you are in very safe hands!